With more than 450 million active users per month, Pinterest is one of the most used social media platforms today. If you're a digital marketer that utilizes the platform, Pinbot is a tool you'll want to use. In this article, I'll be showing you the best Pinbot proxies.
Best Pinbot Proxies
Pinbot developers recommend that you use only reliable proxies. Among free and premium proxies, premium proxies are the most reliable. Many free proxies are not legit and will instead steal for private information.
The legit ones are not very reliable because they are often clogged by many users. As a result, they could disconnect at any time when the load gets too much. This puts your account at heavy risk.
With a premium proxy, you won't have to worry about these. ProxyRack is a recommended premium proxy provider to use. You have the option to go for residential or datacenter proxies. Check them out;
Residential Proxies
Find the perfect Proxy Product.
Proxyrack offers a multiple options to suit most use cases, if you are unsure our 3 Day Trial allows you to test them all.

Residential proxies
Never get blocked, choose your location
View all option available

Datacenter proxies
Super fast and reliable
View all option available
3 Day Trial
Test all products to find the best fit
View all option available
Datacenter Proxies
Residential proxies are the best for Pinbot as they are more difficult to detect than datacenter proxies. For the best experience, you should go for the Private Residential Proxies. With such a proxy type, you get access to exclusive IPs. The network is a private one so only you can access the proxies.
Pinbot Overview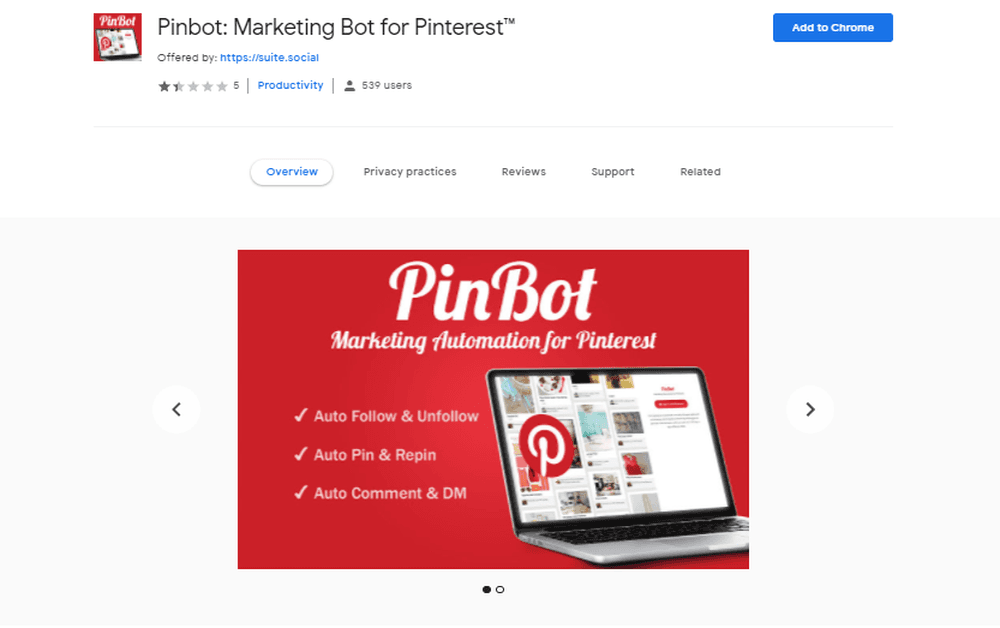 Pinbot is a marketing bot for Pinterest. It was launched in 2013 and its major use is for task automation. You can use the bot to automate everyday Pinterest tasks like pinning, repinning, following, and commenting amongst others.
The advantage of automating such tasks using Pinbot is that you get to execute them a lot faster and save time. Not everyone has the time to sit in front of their computer or hold their phone waiting to respond to every comment, pin, and follow notification.
Subsequently, you'll get more traffic, followers, and sales if you're a marketer due to your high engagement. Pinbot allows you to automate multiple Pinterest accounts from a central point. You can connect your accounts using the Client Link, Official API, or the Manual API.
Other things you can do with Pinbot include searching for pins and copying details. By entering a keyword, the bot will search and deliver all pins that are relevant to that keyword in one collection. Furthermore, you can easily copy usernames, domains, and IDs from pins with one click.
Pinbot features a dashboard from which you can monitor your pins progress. You get a summary of your comments, follows, repins, DMs, unfollows, and more.
Why Do You Need Pinbot Proxies?
Pinterest, like most social media platforms, don't allow bots. If you use a bot to access the platform and it's detected, you'll get the "We've detected a bot!" message. Subsequently, your account will be blocked.
The reason why Pinterest blocks bots is because some bots are bad and malicious. As a result, they can affect Pinterest's server and cause a slow experience for users. Furthermore, some hackers use bots to hack Pinterest users.
There are some good bots like Pinbot that are simply for automation. However, Pinterest systems can't detect which bots are good and which are bad, hence, all bot-detected accounts are blocked.
You can prevent your Pinterest account from being blocked when you use Pinbot with a proxy. It'll be hard for Pinterest to detect that you're using a bot if you use a proxy. It's almost impossible when you use a private proxy.
Your internet service provider will only issue you one IP address and when Pinbot sends automated web requests from that IP, you'll get blocked. This is because a real user can't send that many web requests; only a bot can.
You get multiple IP addresses from proxy. Therefore, you can rotate these IP addresses so Pinbot sends automated web requests from different IPs. Then, it would look like multiple users browsing which is natural as many people can send many web requests. As a result, your account won't be flagged.
Bottom Line
Pinbot helps you save time and makes light of your Pinterest tasks. Due to Pinterest's policy against bot, your account will be blocked if you use Pinbot. This is why you must protect it using the best Pinbot proxies from ProxyRack.
Find the perfect Proxy Product.
Proxyrack offers a multiple options to suit most use cases, if you are unsure our 3 Day Trial allows you to test them all.

Residential proxies
Never get blocked, choose your location
View all option available

Datacenter proxies
Super fast and reliable
View all option available
3 Day Trial
Test all products to find the best fit
View all option available
Related articles