In this post, I will show you the 10 best proxy client programs for managing your proxies.
There are several reasons why you'll need a proxy. While some software applications and tools support proxies natively, others do not.
So, what do you do when you want to use a proxy with an application that doesn't support proxy servers? You use a proxy client.
Proxy clients are simply software programs that let you use proxies with any application. There aren't proxies themselves and the majority of them don't provide proxies.
You can use a proxy client with an application that supports or doesn't support proxies. Furthermore, they are ideal when managing proxies for a large network of computers.
Find the perfect Proxy Product.
Proxyrack offers a multiple options to suit most use cases, if you are unsure our 3 Day Trial allows you to test them all.

Residential proxies
Never get blocked, choose your location
View all option available

Datacenter proxies
Super fast and reliable
View all option available
3 Day Trial
Test all products to find the best fit
View all option available
Here are the 10 best proxy client programs.
10 Best Proxy Client Programs

Proxifier is an advanced proxy client program. With it, you can route the network connection of any application through a proxy. It supports HTTP, SOCKS, IPv6, etc and it is a very lightweight software.
In addition, Proxifier features encrypted proxy channels which makes the software highly secure. Furthermore, it's a fast proxy management software. This proxy client is a standalone software and very flexible. It has all the features you need in a proxy client program and doesn't depend on any third-party application.
For corporate networks, this proxy client program is very dependable. It supports single and entry point routing. You can route connections of multiple computers and manage them remotely from one computer.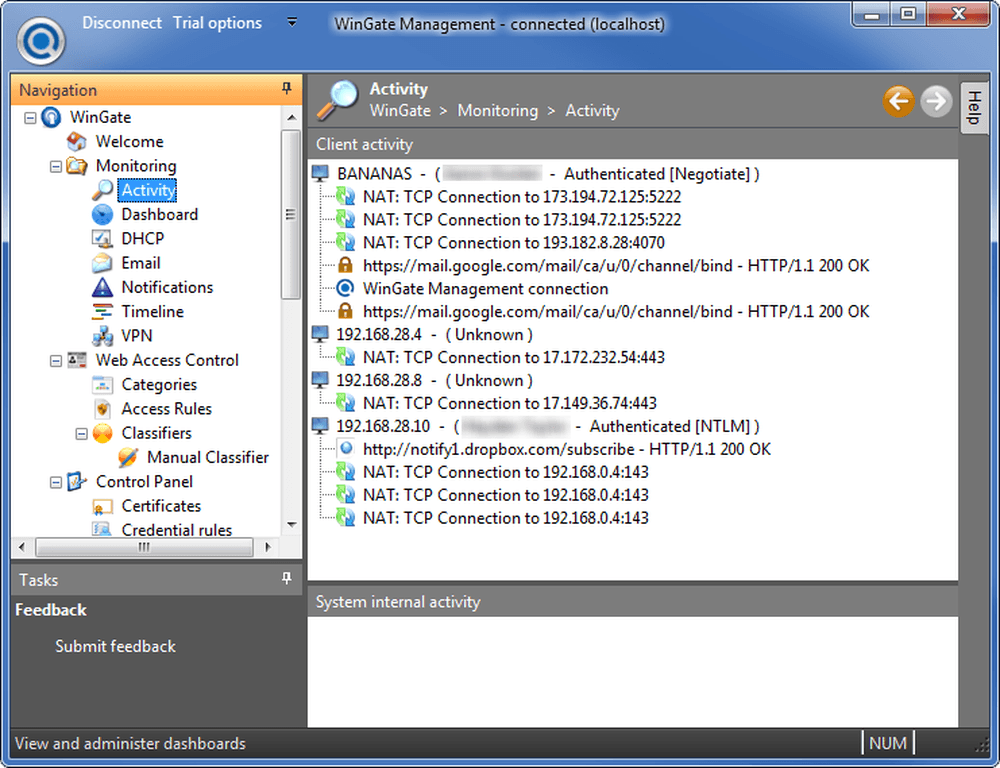 This proxy server client was developed to aid businesses. It is to be used for managing and monitoring internet and network resources in an organization. Nevertheless, it doesn't work for multiple shared internet connections alone; it will work for single connections too.
WinGate is a very secure proxy client that can protect systems from internal and external threats. Your connection is secure by the built-in packet-inspection firewall and there are other optional plug-in components you can install.
The proxy client features web and DNS caching which improves the network performance of user computers. However, it can only be used on Windows PC running on a 64-bit operating system.
FoxyProxy Basic is a proxy client you can only use on browsers as it's available as an extension. Notably, there are FoxyProxy Basic extensions for Google Chrome and Mozilla Firefox browsers. As a result, you can use the proxy client on web-based applications.
This proxy client program makes proxy management very easy thanks to its simplified features. It features browser-based controls instead of the bulk load of configuration options that many proxy clients feature. To switch between proxy servers, you just need to toggle the simple toolbar icon.
With advanced logging, you can monitor which proxies were used for which applications. Furthermore, you can synchronize the proxy client with your other browser settings.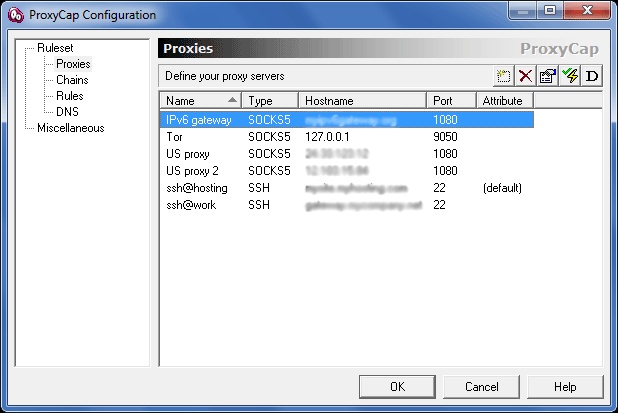 Redirecting your computer's network connection via proxy servers is what ProxyCap lets you do. The proxy client program allows you to do that seamlessly. You simply have to connect your proxies and assign them to the applications you want to route. Finally, select the circumstances that the proxies that will be used.
ProxyCap interface is user-friendly that's why the program is seamless to use. You can make use of SSH servers as proxy servers as the program natively supports the SSH protocol.
This proxy client program supports SOCKS, HTTPS, and Shadowsocks proxy servers. It also supports IPv6, proxy chains, single sign-on, proxy-side DNS, TCP, and UDP protocols and has a built-in proxy checker.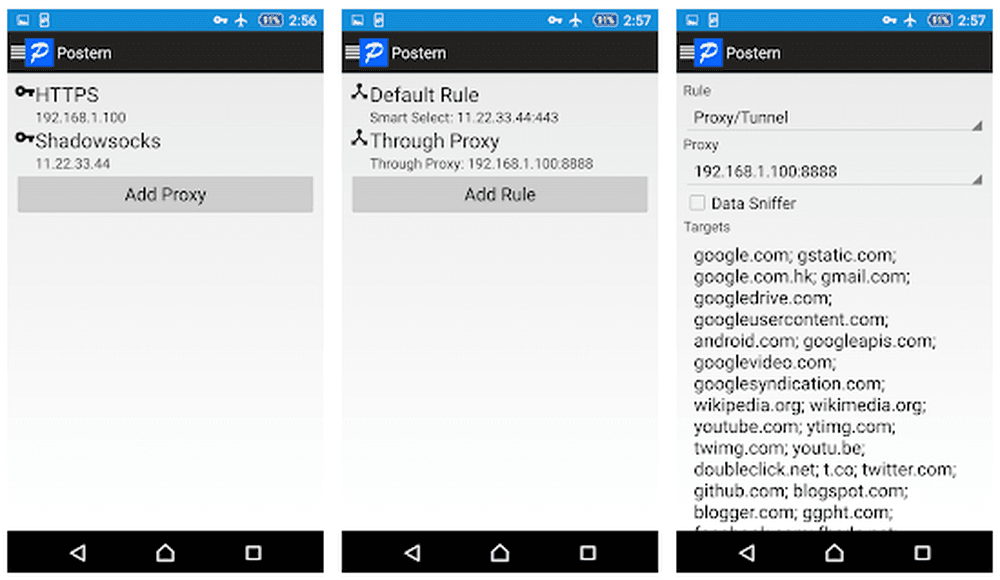 If you need a proxy client for mobile devices, Postern is an ideal program to consider. Postern is available as a mobile application of Android devices. It lets you redefine your device's network connections.
Postern will work with all popular proxy servers. This includes HTTP/HTTPS, SOCKS, SSH Tunnel, Shadowsocks, and GFW.press proxies. The application has a very easy interface. You only need to add proxies and add rules to start using it. You can add as many proxies and rules as you want.
Aside from being a proxy client application, Postern works as a sniffer. You can use the application to collect data packets from any application for analysis.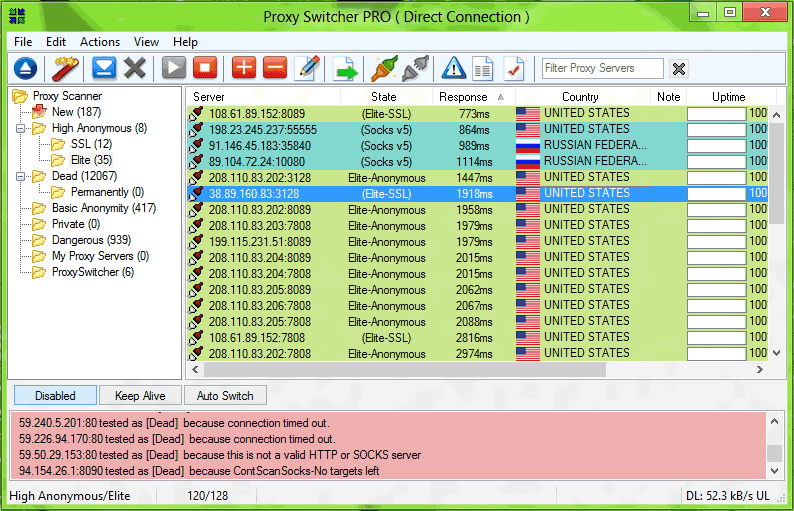 Proxy Switcher lets you change your proxy settings on the fly. It will work with all the top browsers including Chrome, Firefox, Internet Explorer, Opera, etc.
The Proxy Switcher proxy client programs support password-protected servers, SOCKS v5, and Elite servers. There's a lite version of the program that's free and a standard version that's premium and more powerful. There's a PRO version as well.
Proxy Switcher natively supports the IP2City plugin. With this plugin, you can get the detailed geographical location of any IP address you're browsing with. However, the IP2City plugin can only be used if you have the PRO version of the software.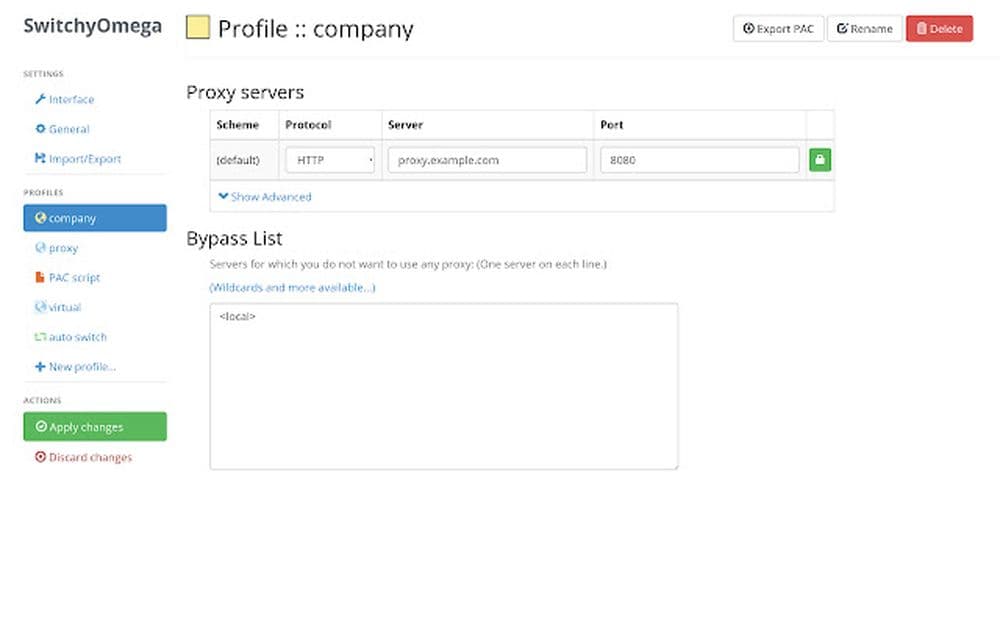 ProxySwitchy Omega is a very popular proxy client browser extension. The extension has more than one million users on Google Chrome alone. It helps users to quickly and easily switch between and manage multiple proxies.
This browser extension saves you the stress and time of having to configure proxies from your browser settings. In addition, it walks over web applications that don't natively support proxies. It features more flexible proxy configurations and is optimized for better performance.
Notably, this proxy client supports HTTP/HTTPS proxy authentication using usernames and passwords. ProxySwitchy Omega can be used mainly on Google Chrome and Mozilla Firefox browsers. However, the Firefox extension is still experimental.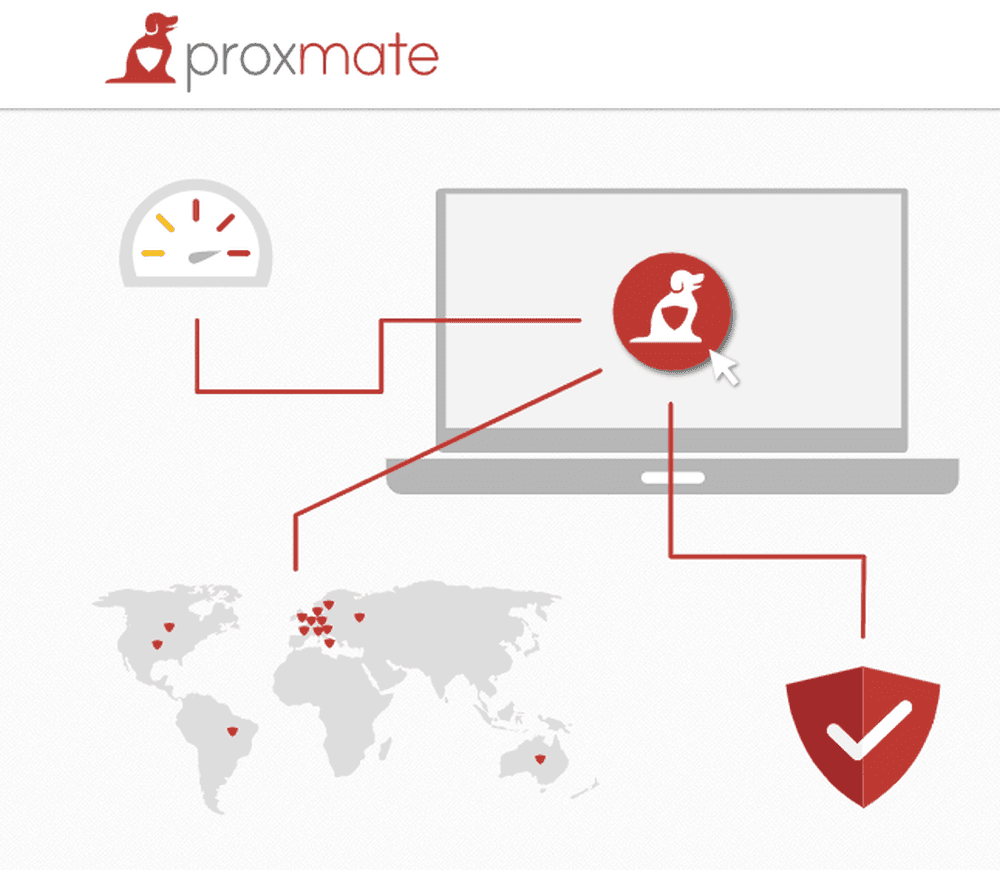 ProxMate is a lighting fast proxy client program. It's relatively very popular as it's used by more than 400,000 people. It's specifically for browsers, as an extension, and will work with Mozilla Firefox and Google Chrome.
This proxy client program is great for security as it features a malware & phishing detector. If you visit any malicious website, you'll get a warning. Notably, the program doesn't affect your SSL connection. No manipulation is employed which means you're safe from hackers.
ProxMate is an open-source proxy client program, so you can experiment with it yourself to add other functions if you can code. Finally, the program has a reliable support system.
This is a proxy client browser extension. It's a unique one as it has profile support. The extension allows you to create different profiles to store multiple proxy servers. You can easily switch between these proxy servers at any time.
It gives you the flexibility to manage all proxy-related settings in one place. With Proxy Switcher and Manager, you can import and export proxy management profiles. This is great in case you want to transfer your proxy settings to a different browser or computer.
Proxy Switcher and Manager browser extension can be used on Google Chrome, Mozilla Firefox, and Microsoft Edge browsers. It supports SOCKS, PAC, and direct proxy types amongst others.
The MM3 Proxy Switch extension is a proxy client program developed for the WebAssistant – Proxy Offline Browser. You can manage different proxy settings with it and switch between them.
Mozilla Firefox, Google Chrome, Microsoft Edge, and Vivaldi are browsers you can use the MM3 Proxy Switch extension with.
Apart from managing your proxy settings, the MM3 Proxy Switch extension can clear your browsing history, cookies, and other related data. With a GNU license, this proxy client program is totally free to use.
Best Proxies For Proxy Client Programs
To use these proxy client programs, you need to purchase proxies. The programs will only help you connect the proxies with any application that doesn't support proxies.
ProxyRack is an ideal proxy provider where you can get the best proxies for proxy client programs. You can buy HTTP and SOCKS proxies, and also residential and datacenter proxies. The type of proxy you'll need will depend on the application you're using and the task you want to complete.
ProxyRack features a massive proxy network. There are millions of IP addresses for you to use and monthly data transfer is unlimited for most proxies.
Here are the pricing plans of ProxyRack proxies:
Residential Proxies
Datacenter Proxies
Conclusion
Proxy clients make proxy management easy. Without these proxy clients, it'll be impossible to use a proxy with applications that don't support it. The proxy client programs mentioned above enables you to manage proxies for usage with several applications.
As mentioned earlier, these proxy clients don't provide proxies. Hence, you'll have to get proxies separately and you can get the best ones from ProxyRack.
Find the perfect Proxy Product.
Proxyrack offers a multiple options to suit most use cases, if you are unsure our 3 Day Trial allows you to test them all.

Residential proxies
Never get blocked, choose your location
View all option available

Datacenter proxies
Super fast and reliable
View all option available
3 Day Trial
Test all products to find the best fit
View all option available
Related articles