Are you looking for the best proxies for Ticketmaster? Read on! This post will show you the best Ticketmaster proxies.
What Types Of Proxies Work With Ticketmaster?
Although there are several proxies such as Datacenter and residential proxies; however, the best proxies for Ticketmaster are residential proxies.
Besides, residential proxies use real IP addresses from Internet Service Providers (ISPs), while Datacenter proxies use IP addresses generated from cloud servers.
Find the perfect Proxy Product.
Proxyrack offers a multiple options to suit most use cases, if you are unsure our 3 Day Trial allows you to test them all.

Residential proxies
Never get blocked, choose your location
View all option available

Datacenter proxies
Super fast and reliable
View all option available
3 Day Trial
Test all products to find the best fit
View all option available
Datacenter proxies are not ideal for Ticketmaster, and as such, are not recommended for usage on ticketing sites. Also, dedicated proxies should not be used by a single user to purchase multiple tickets on Ticketmaster.
With residential proxies, you are provided with unlimited access for ticket purchase on Ticketmaster and other similar platforms.
Looking for a trusted residential proxy for Ticketmaster? ProxyRack got you covered. Check out our residential proxies subscriptions below:
Ticketmaster Overview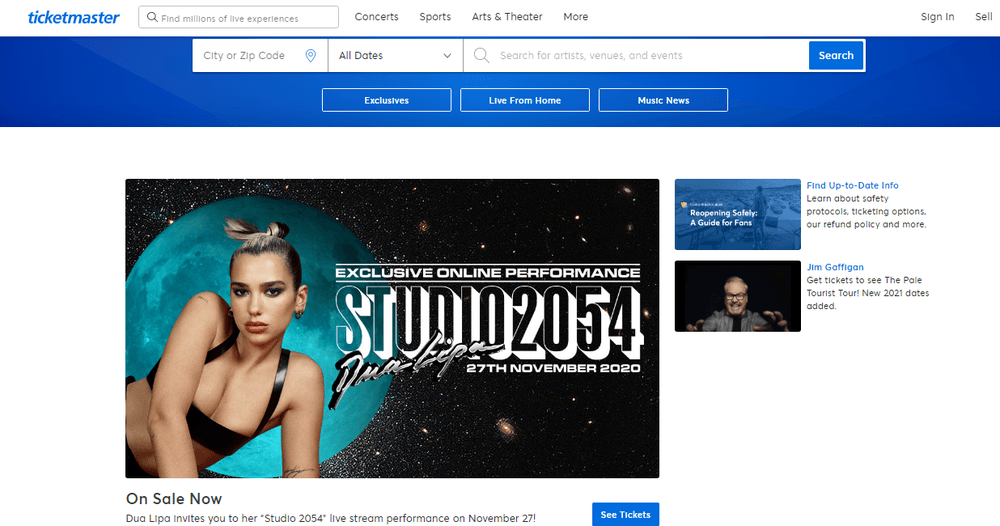 Ticketmaster is a ticket sales and distribution company, with headquarters in California, USA. They provide online ticketing services for events like concerts, sports teams, family-friendly entertainment, etc.
Not to mention, event owners partner with them to make their tickets available through their website, fan support centers, and apps.
However, websites that provide ticketing services like Ticketmaster are incredibly restrictive. These sites are built to combat scraping, and they achieve this by blocking IP addresses of users that attempt to purchase above eight tickets at once.
Check out our full range of Residential Proxies
Why Do You Need Proxies With Ticketmaster?
Since widespread events are well-known to sell out within minutes, a user on Ticketmaster cannot carry out multiple buys – especially if you are obtaining for a large group or into a resale business.
Once Ticketmaster blocks your IP address, you will be denied access to purchase tickets from the site again, even if you try to log in with a different username or email address. The platform does not provide room for any form of appeal; even if you have tried to accidentally purchase too many tickets, it will permanently block your account.
This restriction has not only affected resellers or scrapers who buy tickets and later resell to other individuals. Managers, directors, and other business owners purchasing tickets for their employees, salespeople buying tickets for favorite clients, and even tutors looking to buy sufficient tickets to bring their class to a specific event are all impacted by these restrictive policies.
However, Ticketmaster proxies enable users to purchase batches of tickets above the maximum limit by obfuscating their IP address. If you are a seller, manager, or individual planning to buy multiple event tickets from Ticketmaster, you cannot achieve this without the use of proxies. Besides, proxies help prevent you from being blocked by ensuring that every ticket purchase or transaction is made with a unique IP address.
Check out our full range of Residential Proxies
Additionally, every ticket purchase attempt made on Ticketmaster will prompt a captcha. It uses the captcha to verify if you are human or robot. This verification process is done by displaying an image with hard-to-read distorted letters.
Ticketmaster doesn't outrightly block your account when it suspects that you are using a bot first; instead, it subjects you to take more captcha tests. Likewise, proxies help keep the captcha requirement as low as possible and give your IP address enough cover on Ticketmaster.
Bottom Line
Ticketmaster can block your IP address when you attempt to purchase multiple tickets at once. With Ticketmaster proxies from ProxyRack, you can access a pool of unique IP addresses to purchase unlimited tickets. Not to mention, several Ticketmaster bots facilitate the usage of proxies, so you should have no issue when purchasing multiple tickets.
Find the perfect Proxy Product.
Proxyrack offers a multiple options to suit most use cases, if you are unsure our 3 Day Trial allows you to test them all.

Residential proxies
Never get blocked, choose your location
View all option available

Datacenter proxies
Super fast and reliable
View all option available
3 Day Trial
Test all products to find the best fit
View all option available
Related articles