This article explains how to scrape data from Yelp.
What Is Yelp?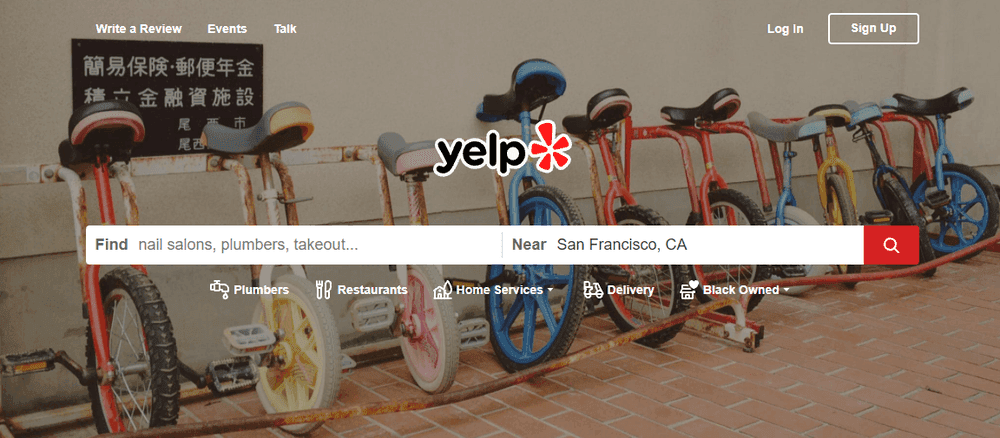 Yelp is a website that facilitates communication between users and services. It features yellow pages where you can look for and find reputable local business services. Restaurants, plumbing, deliveries, automobile repairs, real estate, and pet services are examples of services on Yelp.
Almost any type of business service can be found on Yelp. People can leave reviews on Yelp as they find and use the business services that are listed there. Other customers will be able to see from these testimonials how well or how terribly a company performs for them.
As a result, Yelp is a useful resource for discovering the truth about local businesses. Yelp's mobile apps are available for Android and iOS devices, making it easier for consumers to use the platform's services.
Find the perfect Proxy Product.
ProxyRack residential proxies feature up to 2 million IPs. They are not only reliable but also very affordable.

Datacenter proxies
Super fast and reliable
View all option available
3 Day Trial
Test all products to find the best fit
View all option available
If you own a business, Yelp is an ideal platform to list your services. This service is provided without charge, and you don't have to supply a lot of information if you don't want to. Your listing will be reviewed after submission, and will only appear on the site if accepted.
How To Scrape Data From Yelp
If you're a business owner or marketer in the US, Canada, or any of the European countries Yelp support, you'll find valuable market data on Yelp. For example, business profiles with the contact information like email addresses and phone numbers might provide you with leads.
You can also find out who your competitors are by using the data to see who the top performers are in certain niches. Customer reviews will give you an insight into what each business is lacking and what you can leverage.
To start with, you will need a scraping bot. Manual copy and paste will waste your time if you want to harvest Yelp data. Scraping bots work automatically and can extract the bulk of data in seconds. You just need to specify what data you want to extract.
Scraping bots are available everywhere online; some are free to use while others require payment. However, scraping data successfully with only a scraping bot is tough due to the risk of getting blocked. Yelp and the vast majority of websites on the internet only want human traffic; they use anti-bot systems to block bot or automated traffic.
You can use a proxy to avoid being blocked. As an intermediary between you and the websites you access, a proxy server makes your scraping bot invisible. Using a proxy masks your real IP address from public view. A trace on your IP will only return the Proxy's IP.
Proxy servers have thousands or millions of IPs, not just one or two. While scraping Yelp data, you can rotate and use different IP addresses to avoid being flagged. Yelp's servers won't be able to detect your bot as you won't be sending bulk requests from one IP.
Best Proxies To Use
There are many proxy providers on the internet. Hence, you may find it difficult to settle on one. You can't afford to use unreliable proxies as you'll only be making it easier for Yelp to detect your scraping bot.
I recommend ProxyRack if you need reliable proxies for scraping Yelp or any other websites. You can purchase both residential and datacenter proxies and any would work to scrape data from Yelp.
However, residential proxies are more dependable than datacenter proxies their IPs are from internet service providers. On the other hand, datacenter proxies are generated from datacenters which are virtual servers. Nevertheless, they have the advantage of speed.
Below are the available proxies on ProxyRack and their prices;
Bottom Line
A web scraping bot and a reliable proxy are the two things you need to scrape data from Yelp and you can purchase reliable proxies from ProxyRack.
Find the perfect Proxy Product.
ProxyRack residential proxies feature up to 2 million IPs. They are not only reliable but also very affordable.
Related articles