We live in a digital world. That's why online privacy is of the utmost importance! If you've been looking through different online safety tools like VPNs and proxies, you might be pretty confused. There are many types of servers out there designed to protect you.
In this article, we'll talk about the differences between SOCKS5 proxies and a Virtual Private Network (VPN). Both offer anonymity and encryption, but their approaches differ significantly.
Let's find out who wins in the security battle between SOCKS5 vs VPN.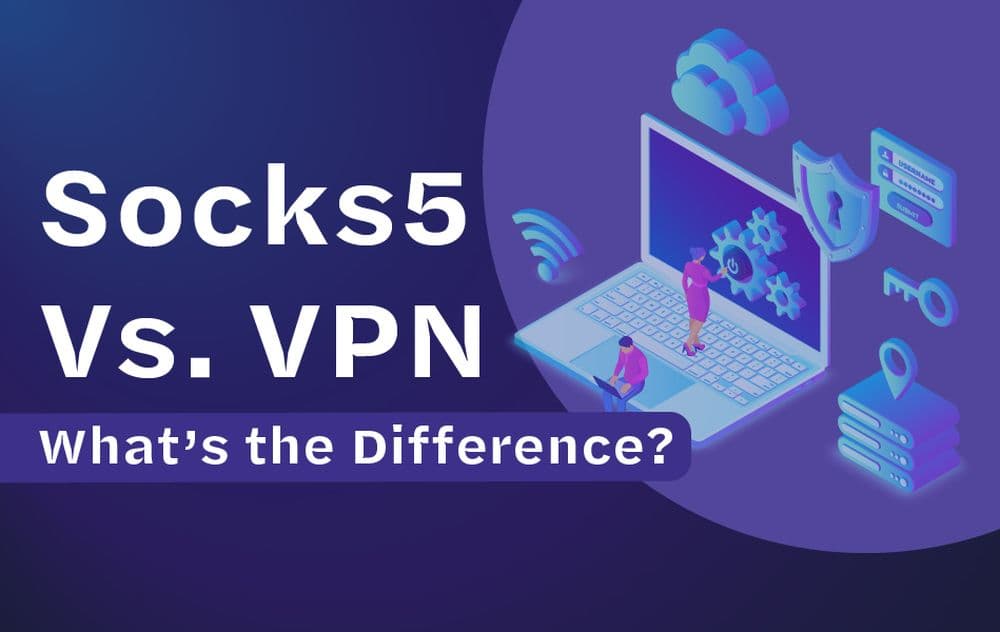 What is a SOCKS5 proxy
A Socket Secure 5 (SOCKS5) proxy is the latest SOCKS proxy available. A proxy server allows a client and a server to communicate over a network through a proxy connection. Proxy servers, particularly SOCKS, function as a liaison between your device and the server. This allows you to send and receive data via the proxy server address.
It's not the only proxy server available; you can also check out other proxies like an HTTP proxy, a datacenter proxy, a residential proxy, and more. Some of these proxy services, like HTTPS proxies, may require a manual proxy setup.
There are often debates about the best choice between HTTP proxies and a SOCKS5 proxy. However, it's been proven that SOCKS proxies are far superior to HTTP proxies as they offer better security features. Proxy servers often have free services, but paid ones offer more benefits.
SOCKS5 proxies use three authentication methods:
Username/Password: A SOCKS5 proxy allows username and password authentication. This adds extra protection by ensuring that only authorized users can connect to the proxy server.

No Authentication: A SOCKS5 proxy also allows you to connect without logging in. While this is convenient, it is important to note that it could compromise online security.

GSS-API: You and your proxy servers use authentication procedures at an operating system level to prove your identity with a SOCKS5 proxy. 
Advantages of using a SOCKS5 proxy:
Efficiency: This SOCKS proxy can manage a lot of user traffic because they operate at the transport layer of the network protocol stack. This delivers quicker data transmission speeds through a remote server. SOCKS protocol does not rewrite data packet headers, making it faster.

Privacy: A SOCKS5 proxy routes internet traffic. This creates a secure connection that hides IP addresses and other identifying details. It also ensures anonymity.

Compatibility: SOCKS5 proxies are compatible with a wide variety of applications and protocols. A SOCKS proxy is also compatible with web browsers, instant messaging clients, torrent clients, and other applications.

Bypassing Restrictions: A SOCKS5 proxy enables users to get around geo-restrictions and gain access to content that is restricted in their location through the proxy server. You can find a proxy server located anywhere in the world.
It's important to choose your SOCKS5 provider wisely to ensure the greatest benefits at the lowest cost. Check out Proxyrack's SOCKS proxies to stay protected online.
What is a VPN? 
A VPN is a technology that connects a user's device to a distant server over a safe and encrypted connection. VPN servers enable users to securely access the internet and send data. It establishes an encryption tunnel that halts any danger of interception or unwanted access.
VPN methods of authentication include:
Username/password: VPN services frequently require customers to log in using a username and password combination. This guarantees that only authorized users can connect to and access the server.

Certificate-based Authentication: Some VPNs employ digital certificates to verify user identities. These certificates serve as one-of-a-kind identity credentials, giving extra protection to the authentication process.
Advantages of VPNs:
Encryption: VPN encrypts data exchanged between your device and the server. This encryption assures that even if the data is intercepted, it is unreadable to potential eavesdroppers. It safeguards sensitive data such as bank information and passwords.

Remote Access: VPNs provide secure remote access to internal networks such as your company or home network. This enables you to access resources, information, and devices on such networks from anywhere in the globe and it keeps the connection encrypted and safe.

Accessing Restricted Content: VPNs enable users to bypass geographical limitations. You connect to a server and appear to be in a whole other place.

Privacy: You can hide your real IP address by connecting to a VPN, which replaces it with the IP address of the VPN. This protects your identity and stops websites and online services from tracking your web browsing actions.

Wi-Fi Protection: VPNs provide extra safety while connected to a public Wi-Fi network by encrypting the user's data. Your VPN provider helps prevent unwanted access and data theft. 
If you decide to go with a VPN, Proxyrack's Residential VPNs offer great protection and advanced features.
What's the difference between a SOCKS5 proxy and a VPN? 
The main differences between SOCKS5 proxies and VPNs are the way they work, as well as the level of security and privacy they provide.
A SOCKS5 proxy typically operates as an intermediate server, relaying web traffic between you and the specified server. Proxy servers function at the application level. A SOCKS proxy offers an easy proxy experience for a variety of protocols, including HTTP.
VPNs, on the other hand, safeguard the connection between the client's device and a VPN server by encrypting all internet traffic and rewriting data packets. VPNs protect the security and integrity of data sent. It prevents it from being observed by third parties like your internet service provider.
While a SOCKS proxy can provide anonymity and allow users to get around geo-restrictions, VPNs, particularly those supplied by reputable VPN service providers like Proxyrack, give a better degree of security, privacy, and anonymity. This is mainly due to the encryption offered by VPN providers.
Even though there are free proxies and free VPN services available, their dependability, security, and privacy features can differ greatly. Check out reputable providers like Proxyrack to be sure of the quality of your security service.
SOCKS5 Proxy and VPN process comparison - How do they work?
What does a SOCKS5 proxy do?
Serves as a bridge between your device and the server.

Handles web traffic and safely redirects it.

Provides a consistent proxy experience for a variety of protocols, including HTTP.

Disguises your IP address, providing anonymity.

Functions at the application level.
What does a VPN do?
Creates an encrypted link between your device and a VPN server.

All network traffic, including data packets, is encrypted. This protects privacy and authenticity.

Supports both UDP and TCP protocols for safe data transfer.

Rewrites data packet headers to offer extra security.

Divides information into smaller data packets for easier and more protected exchange.

Hides your IP address and replaces it with the VPN server's IP address.
SOCKS5 Proxy vs. VPN - Which is better?
There are clear benefits of choosing SOCKS5 proxies over VPNs, and vice versa - it really depends on the task.
SOCKS5 is great for anonymity, masking your location and handling online traffic. However, VPNs are suited to secure web browsing, getting past firewalls and have enhanced privacy. 
If you're not sure which is better for your task at hand, please contact the helpful experts at Proxyrack.