Are you looking for the best proxies for DuckDuckGo? This post is for you!
Best DuckDuckGo Proxies
Due to their high level of anonymity, residential proxies are rated as the best proxies for web scraping. In other words, residential proxies are the best DuckDuckGo proxies. Residential proxies are very anonymous because they get their IPs from Internet Service Providers (ISPs). These are the same IPs that normal internet users use.
Where can you get the best residential proxies for scraping DuckDuckGo? I recommend ProxyRack. ProxyRack residential proxies are high-performing proxies and you can choose different cities, countries, and also ISPs. Check out the available options below;
Residential Proxies
If you don't go for residential proxies, datacenters are also good options. You can use datacenter proxies for scraping DuckDuckGo and while they aren't as private as residential proxies, they'll still do the job. In fact, residential proxies are not as fast as datacenter proxies which is an advantage.
Find the perfect Proxy Product.
Proxyrack offers a multiple options to suit most use cases, if you are unsure our 3 Day Trial allows you to test them all.

Residential proxies
Never get blocked, choose your location
View all option available

Datacenter proxies
Super fast and reliable
View all option available
3 Day Trial
Test all products to find the best fit
View all option available
As recommended earlier, ProxyRack still provides high-speed datacenter proxies. Check out the available options below:
Datacenter Proxies
What Is DuckDuckGo?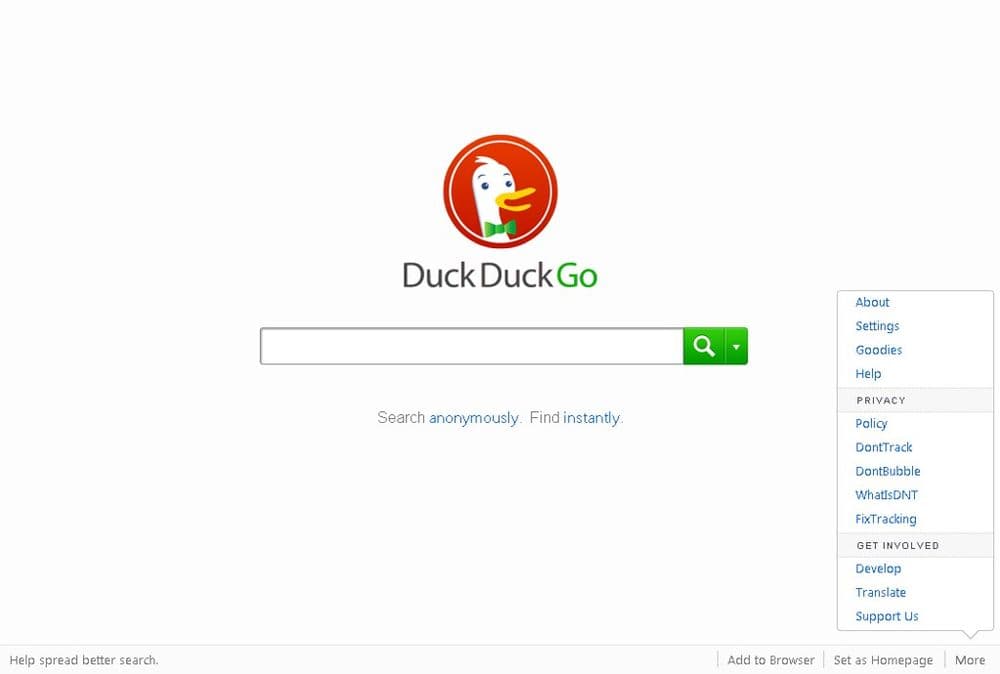 DuckDuckGo is known popularly as a search engine and one of the main alternatives to Google. The platform was created in 2008 and is based in Pennsylvania in the US. DuckDuckGo is a global website that implies you can use it from anywhere. The search engine places online privacy and security above anything else.
DuckDuckGo doesn't store your IP address or any other user information when you use the search engine. It only collects cookies on certain occasions.
Privacy and security aren't the only features that make DuckDuckGo unique. The search engine doesn't profile users. If you search Google or Bing for example, you'll get search results that are specific to your region. With DuckDuckGo, you get the same search results for any search term irrespective of your country.
Furthermore, DuckDuckGo uses multiple APIs from different providers. This is why it's indirectly referred to as a hybrid search engine. The search engine is featured by default on different devices. Currently, the search engine boasts of close to 10 million daily searches on average.
Aside from the search engine, DuckDuckGo also has a mobile browser and an online community where users can interact. In addition, there's also the DuckDuckGo email service (@duck.com) which was just recently launched.
Why You Need Proxies For DuckDuckGo?
As a search engine, DuckDuckGo contains bulk information on keywords. It won't be wrong to say the search engine contains data for every possible keyword. Whatever you search on DuckDuckGo, you'll get search results.
As a business, you can scrape data of related keywords to keep track of what websites in your niche are leading. For SEO professionals and agencies, this is most important as it lets you monitor the competitive position of your customers' website ranking.
There are about unlimited possible keyword combinations. For these reasons, it's impossible to search for every keyword one after the other to see who's ranking. Even web scraping can't get data for all possible keywords but it lets you scrape as much as possible.
Search engines use various means to block web scraping bots. For DuckDuckGo, a search engine that prioritizes privacy and security, the difficulty is at the highest. This is why you need a proxy. Not just any proxy but the best ones available.
Proxies come with many IPs. By rotating these IPs and using one at different intervals, you can prevent the DuckDuckGo website from blocking your bot. DuckDuckGo blocking your bot technically means blocking your IP. When you rotate IPs, you'll have switched to a different one before any of them can be detected and blocked.
Bottom Line
DuckDuckGo, like other search engines, prevents web scrapers by blocking any associated IP addresses. A proxy allows you to prevent this block and you can get the best proxies for DuckDuckGo from ProxyRack.
Find the perfect Proxy Product.
Proxyrack offers a multiple options to suit most use cases, if you are unsure our 3 Day Trial allows you to test them all.

Residential proxies
Never get blocked, choose your location
View all option available

Datacenter proxies
Super fast and reliable
View all option available
3 Day Trial
Test all products to find the best fit
View all option available
Related articles