Today, I will be showing you the best proxies for Kodai AIO.
The Best Proxies For Kodai AIO
There are several proxies but for Kodai AIO, Residential and Datacenter Proxies are the best. These proxies are ideal for hiding your IP address when browsing; hence, Kodai AIO can connect to sneakers platforms and add products to the cart multiple times.
In essence, Residential proxies allow you to hide your original IP address behind another. When traced, it gets traced to a home address that is not yours but is real and can't be banned. It uses IP addresses from Internet Service Providers (ISPs), which makes their IP addresses authentic and hard to detect.
Conversely, Datacenter proxies hide your IP address and allow it to be traced to a datacenter or corporation associated with it. It doesn't do anything with your Internet Service Provider (ISP) or internet connection. That is, their IP addresses are not gotten from Internet Service Providers (ISPs) but data servers.
When purchasing residential and datacenter proxies, they are best gotten from a reliable and trustworthy proxy service provider. You can get them from ProxyRack, a reputable proxy provider that offers secure, quick, and anonymous proxies.
ProxyRack offers different packages, for both residential and datacenter proxies, that support IP whitelisting and authentication with username and password. These packages are reliable and have very high success ratings.
With ProxyRack's residential proxies, you can access more than 5 million IPs. The different Residential Proxies package and their pricing from ProxyRack include:
Datacenter Proxies on ProxyRack have different worldwide locations and you can remove and add new IP addresses. They are reliable and fast, and you can access more than 20,000 IP addresses. There are four packages with different prices to choose from, which include:
What Is Kodai AIO?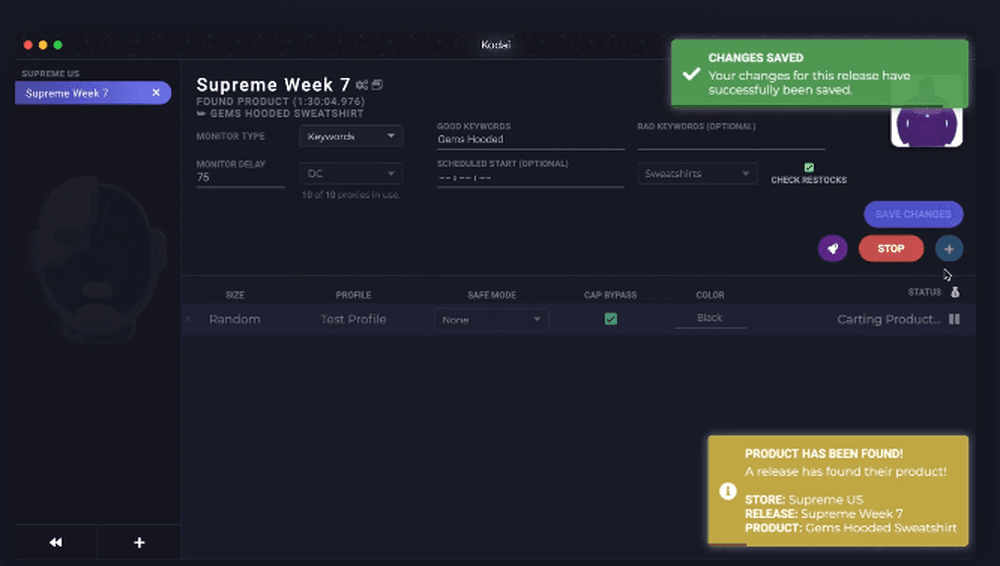 Kodai AIO is an All-in-One premium sneaker copping bot that is used to speed up the purchase of sneakers from online retail shops. It was created in 2018 and has since then evolved into an untamable bot.
Kodai AIO provides support to many sneakers sites like Shopify, Adidas, Supreme, Footsites, Yeezy, and more. It can be used on all platforms and works on all Mac and Windows-supported devices. This means that you can use it on any desktop device. Kodai AIO is user-friendly and it is updated regularly to ensure efficiency. That way, users won't miss out on any newly released sneaker.
Why Do You Need Proxies For Kodai AIO?
Before limited editions of different sneakers are released, there are already many persons waiting to get it. This is why upon their release dates, in no time, these sneakers are out of stock. To avoid missing out on such an opportunity, you would need Kodai AIO, a sneaker bot, to quickly purchase these sneakers from online shops.
However, sneakers bots are frowned out in most online retail shops. This is because websites are against bot traffic and they use algorithms to locate bots. If a sneaker bot is located, your order will be cancelled and you will be blocked. This is where you need proxies.
Proxies hide your real IP address, offering different IP addresses to use instead. They make your connection anonymous and quick. These different IP addresses can be used interchangeably instead of using just one IP address to make queries. They are detected as real and your order will not be cancelled neither will you be blocked.
Bottom Line
Using proxies on Kodai AIO keeps you are at advantage because you don't need to worry about getting blocked. You can be assured that you would get that sneaker before it's out of stock.
Find the perfect Proxy Product.
Proxyrack offers a multiple options to suit most use cases, if you are unsure our 3 Day Trial allows you to test them all.

Residential proxies
Never get blocked, choose your location
View all option available

Datacenter proxies
Super fast and reliable
View all option available
3 Day Trial
Test all products to find the best fit
View all option available
Related articles