Do you want the best proxies for SEnuke? Read on!
If you're a webmaster or digital marketer, one thing you'll be very interested in is SEO. You want your website to rank on Search Engines, so they can be discovered by your audience when they search the internet.
While you can manually put SEO practices in place, SEO tools like SEnuke make things way more comfortable.
So, follow me as I show you the best proxies for SEnuke.
What Are The Best Proxies For SEnuke?
There are residential, mobile, and datacenter proxies. For SEnuke, I would recommend datacenter proxies as the best SEnuke proxies.
All you want to do is to conduct searches and click on your website's link. This means you have to be as fast as possible.
Fortunately, datacenter proxies guarantee that speed. They might not be as reliable as residential proxies in terms of their chance of being detected, but you only need seconds to do what you want with SEnuke. You're not likely to be detected and blocked in that time.
You can purchase datacenter proxies from ProxyRack. Below are the subscriptions:
Residential proxies are suitable for SEnuke too, but they aren't as fast as datacenter proxies. They get their IP addresses from ISPs while datacenter proxies get their IP addresses from fast virtual servers (data centers).
Find the perfect Proxy Product.
Proxyrack offers a multiple options to suit most use cases, if you are unsure our 3 Day Trial allows you to test them all.

Residential proxies
Never get blocked, choose your location
View all option available

Datacenter proxies
Super fast and reliable
View all option available
3 Day Trial
Test all products to find the best fit
View all option available
If you decide to go with residential proxies, you can get them from ProxyRack with any of these subscriptions:
SEnuke Overview
SEnuke is an SEO tool that can automatically get your website to rank number 1 on Google. It does this by using the most crucial ranking factors. Not to mention, it is an easy-to-use SEO tool.
With the SEnuke crowd searcher, you can carry out thousands of searches for your keywords on Google, so it looks like multiple users conduct them. By clicking on your website, your trust level adds up, which will improve your ranking.
To bypass CAPTCHA, SEnuke has a built-in OCR capable of bypassing CAPTCHA 50% of the time. With loop mode, you can create a search campaign and let it run for as long as possible. It's also possible to create and schedule search tasks for later.
Its Powerful Macro Recorder functionality allows you to get any link on the web without writing a code.
Conversely, SEnuke is a premium SEO tool. To use it, you have to pay a recurring subscription of $97 per month.
Why Do You Need A Proxy For SEnuke?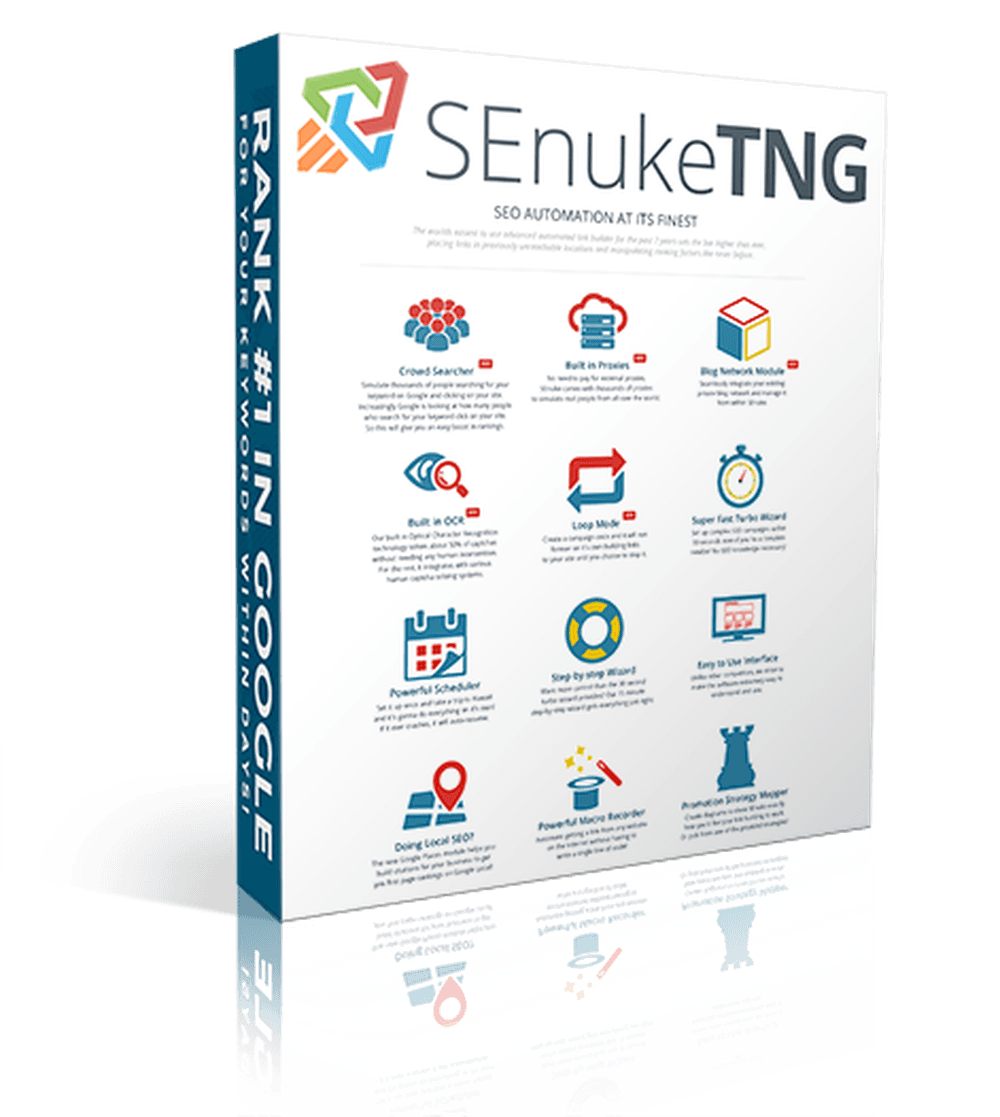 To conduct thousands of keyword searches on Google from one computer and make it appear like it's from various users, you'll need thousands of IP addresses. Each IP address represents each user, and with a proxy, you not just get thousands but millions of IP addresses.
Basically, SEnuke was designed to work with a proxy. In fact, you cannot use it without one, as there are already 100,000 built-in proxies from the developers.
Aside from needing a different IP address for each user you are simulating, search engines will block you upon detection. The proxy will mask your real IP address so what Google reads are the thousands of IP addresses from your proxy server. That way, you can never be blocked.
Check out our full range of Residential Proxies
Check out our full Range of Datacenter Proxies
Bottom Line
There you go! The best proxies for SEnuke.
With SEnuke, you can get your site at the top of SERPs. Likewise, a proxy enables you to use SEnuke without hassles. Proxies present you with all the IP addresses you need to simulate users.
If you need proxies for any purpose, feel free to reach our support team for a quick suggestion.
Find the perfect Proxy Product.
Proxyrack offers a multiple options to suit most use cases, if you are unsure our 3 Day Trial allows you to test them all.

Residential proxies
Never get blocked, choose your location
View all option available

Datacenter proxies
Super fast and reliable
View all option available
3 Day Trial
Test all products to find the best fit
View all option available
Related articles