In this article, we'll be looking at the best proxies for Stellar AIO.
Best Stellar AIO Proxies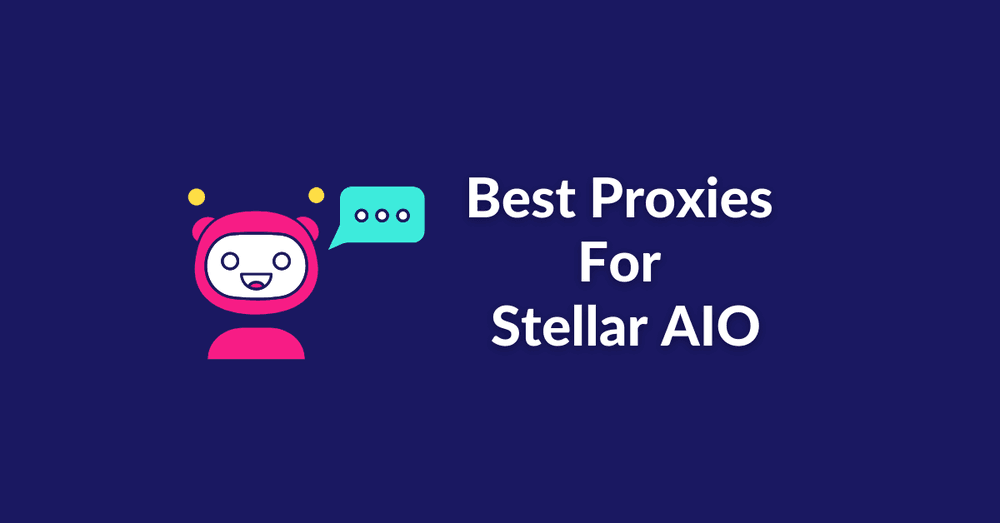 The best proxies you can use for Stellar AIO are residential proxies. Residential proxies feature IP addresses from ISPs which means each proxy represents a physical location.
Hence, using a residential proxy makes you appear so much like a normal internet user. It's difficult for websites to detect residential proxies.
Datacenter proxies are still good for Stellar AIO. However, unlike residential proxies, they feature generated IPs. They are not very anonymous as residential proxies as they don't point to a physical location. Nevertheless, there are very reliable datacenter proxies that are difficult to detect.
You can find so many proxy providers online. How do you find the best proxies? A residential proxy from an unreliable proxy will do no good when shopping with the Stellar AIO bot.
To save you the stress, I recommend ProxyRack proxies as the best proxies for AIO. With ProxyRack, you get high-success-rate residential and high-speed datacenter proxies. You have access to 5 million + residential IPs and 20,000 + datacenter proxies.
In addition, you don't have to spend much as the proxies are relatively cheap. Check them out below:
Unmetered Residential Proxies: Starting from $80

Premium GEO Residential Proxies: Starting from $14.95

Private Residential Proxies: Starting from $99.95
USA Rotating Datacenter Proxies: Starting at $120

Mixed Rotating Datacenter Proxies: Starting at $120

Shared Datacenter Proxies: Starting at $49

Canada Rotating Proxies: Starting at $65
Stellar AIO Overview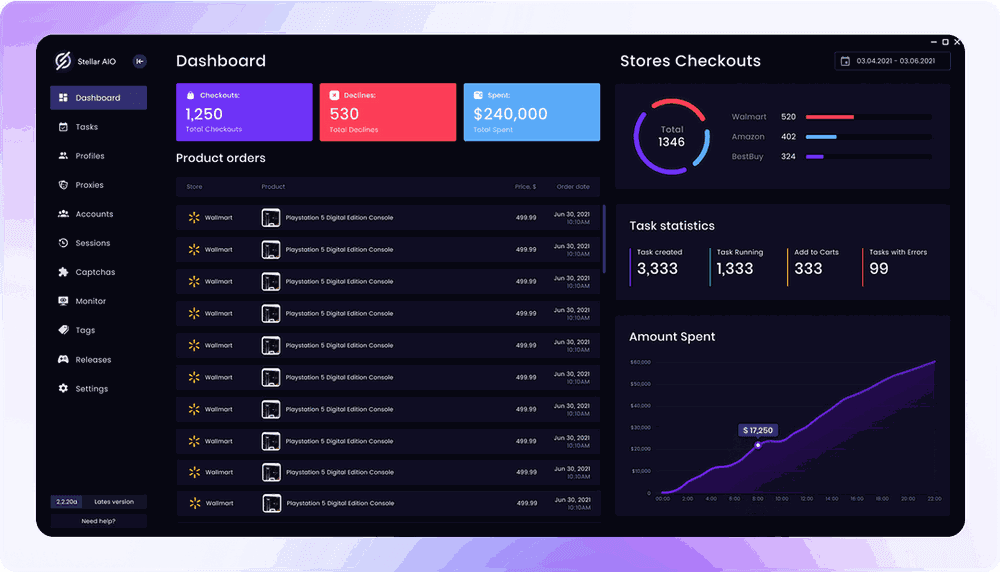 Stellar AIO is a reseller bot. You can use it to purchase items online automatically and easily. The bot is very fast and has some very advanced features.
With the simple and user-friendly user interface, anyone can use the Stellar AIO bot. Also, you can use the bot to make hundreds of purchases at a time with the easy grouping feature.
It supports multi-checkout methods so it'll work with different online retailers. Furthermore, the bot works on all drops simultaneously, the first of its kind.
Stellar AOI natively supports some of the top retail websites in the world. This includes:
Amazon

Walmart

Target

Best Buy

The Home

Depot, Academy

Pokemon Center

Topps

Panini

Gamestop

BHPhoto, and

Newegg.
The tool isn't free. You can pay monthly subscriptions of $30 per month or purchase the bot for $300. After purchasing or paying for a subscription, you can download and install the software on your Windows or Mac computer.
However, the reseller bot is usually limited. Hence, you'll have to be fast to purchase one. Else, you'll have to join the waitlist for when next it'll be available. If you ever run into challenges using this bot, you can count on the 24/7 support for assistance.
Why You Need Proxies For Stellar AIO?
As a reseller bot, you cannot use Stellar AIO purchase bot without a proxy. The main reason why you need a proxy is to avoid blocking.
Websites like Amazon, Walmart, Target, and others that the Stellar AIO works on are not bot-friendly. Hence, when you try to access them, your bot will get blocked.
It's possible for websites to block you from accessing their website because your IP address is public. Once they detect the bot traffic, they blacklist your IP address.
This means you can no longer access the store with your device unless you change your IP address. This can be avoided with a proxy since proxies can mask your original IP address.
A proxy masks your original IP address by replacing it with a different one. They usually feature hundreds and millions of IPs so you have a lot of them to use.
If an online store should block an IP address, you can simply switch to another one and continue browsing. Alternatively, you can prevent a store website from banning any of your IPs by using the IP rotation technique.
Rotating proxies will automatically switch your IP at specific intervals. That way, you must have switched an IP before a website anti-bot system detects your bot and blocks it.
Bottom Line
The Stellar AIO bot will help you purchase items faster from top online stores across the world. However, it can only work efficiently if you use the best proxies. You can get the best Stellar AIO Proxies from ProxyRack.
Find the perfect Proxy Product.
Proxyrack offers a multiple options to suit most use cases, if you are unsure our 3 Day Trial allows you to test them all.

Residential proxies
Never get blocked, choose your location
View all option available

Datacenter proxies
Super fast and reliable
View all option available
3 Day Trial
Test all products to find the best fit
View all option available
Related articles