This post will show you the best proxies for accessing Yahoo Apps.
If you're using Yahoo mail or its other apps, then you're likely not exempt from issues relating to Yahoo's recent security hardening. Therefore, in this post, we will focus on how you can enjoy seamless access to yahoo services using proxies.
What Are The Best Proxies For Yahoo Apps?
The best proxies for Yahoo apps are Residential proxies because they are real IP addresses. In fact, they emanate from real computer devices, which makes them ideal for obfuscating your internet connection before accessing any Yahoo services.
Additionally, residential proxies are best for reducing captcha verification rates, preventing intermittent logging out, masking bot activities, and accessing geo-restricted/geo-specific content services.
Conversely, the ideal proxy service provider for yahoo apps should provide over 500,000 unique proxies daily and should be able to handle over 800 million API requests.
Find the perfect Proxy Product.
Proxyrack offers a multiple options to suit most use cases, if you are unsure our 3 Day Trial allows you to test them all.

Residential proxies
Never get blocked, choose your location
View all option available

Datacenter proxies
Super fast and reliable
View all option available
3 Day Trial
Test all products to find the best fit
View all option available
Nonetheless, ProxyRack meets up this criterion for the best proxy provider (for Yahoo apps and services). Not to mention, they offer proxy packages at affordable rates.
Here are ProxyRack price plans for Datacenter, and Residential proxies
Residential proxies
Datacenter Proxies
Yahoo Apps Overview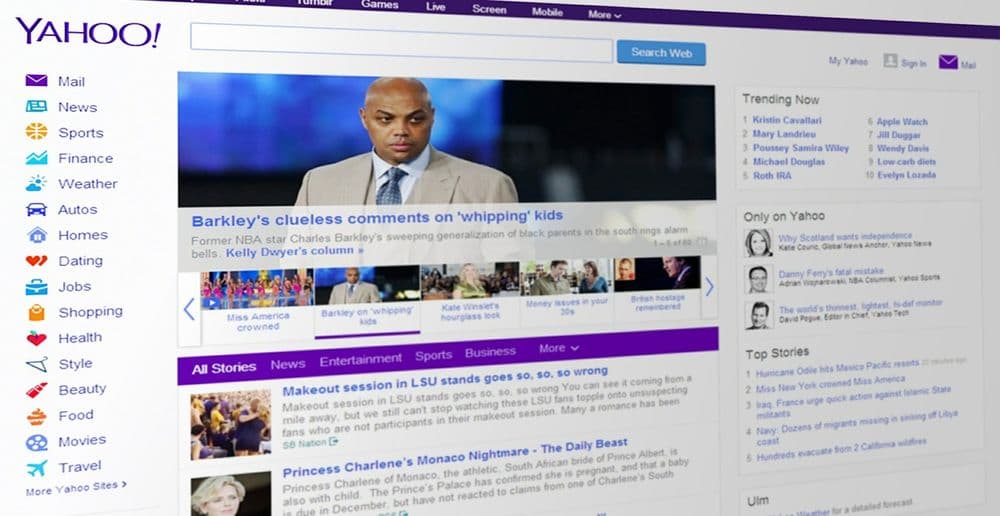 Two decades ago, Yahoo topped the list of commercial mail clients; faced by challenges and competition from big names, Yahoo still retains its popularity, ranking third on the popularity list.
Presently, aside from serving mails, Yahoo hosts a whole lot of services such as Yahoo View, Yahoo Fantasy and Sports, Yahoo News, Yahoo Weather, Yahoo Finance, Yahoo Live Web Insights, etc.
However, some of these services are geo-restricted, available only to users in the US, hence the need to access such services via proxies for users outside of the US.
Verizon Communication acquired Yahoo from Jerry Yang and David Filo, two Stanford University graduates who founded Yahoo in 1994.
Why Do You Need To Use Yahoo Proxies?
Yahoo's recent security hardening has resulted in complaints such as captchas, other security verifications, intermittent logging out for users using Dynamic IP address, etc.
Nevertheless, here are reasons to use proxies for Yahoo apps.
Solving Captchas
Users logging in from a new device or new locations are faced with captcha as a means of verifying their true identity as a human. Although solving captchas is simple, but solving recurrent captchas can be pretty annoying.
However, using premium Rotating Residential proxies can reduce the frequency of captchas drastically even when logging in from a new device or location.
Preventing Intermittent logging out
Users using dynamic IP addresses will likely be logged out intermittently, especially when accessing Yahoo from other countries with a dynamic IP address. The best bet for solving this problem is using rotating US Residential proxies.
Accessing geo-specific Yahoo contents and services
Services and contents from Yahoo, such as News, Weather, Sports, finance, View, etc., are geo-specific, i.e., Yahoo will only serve you with contents tailored to your geo-location. Therefore, accessing contents outside your region, e.g., accessing Yahoo News US, will require you to use a US proxy IP address.
Streaming from Yahoo View
If you're in the US, you can stream popular Hulu shows such as Modern Family, Empire, Shades of Blue, New Girl, etc. On Yahoo View. But if you're traveling outside of the US, or you live in Australia, UK, Finland, etc., you can't stream from Yahoo View because it is a geo-restricted video streaming service available only in the US.
Automating multiple account opening
Yahoo supports having up to ten multiple accounts; this, however, raises a red flag. Also, if you're an email marketer, you will probably need more than 10 Yahoo mail accounts, and you will also be automating the account opening process.
If you're exceeding ten email accounts, you will need proxy services for a change of IP address. Yahoo has strict policies against bot usage for automating mass account opening processes; hence using bots for such purposes can earn you a ban. However, using proxies can mask your bot's activities, thus evading detection.
Conclusion
Overcoming challenges brought about by Yahoo's recent security hardening requires that you use residential proxies. Also, there are tons of premium services you can access for free on Yahoo.
However, these services are geo-specific and require that you use Residential proxies, hence the need to subscribe to any of ProxyRack's Residential proxy plans.
Find the perfect Proxy Product.
Proxyrack offers a multiple options to suit most use cases, if you are unsure our 3 Day Trial allows you to test them all.

Residential proxies
Never get blocked, choose your location
View all option available

Datacenter proxies
Super fast and reliable
View all option available
3 Day Trial
Test all products to find the best fit
View all option available
Related articles