What are the best Shopify bots? I'll be listing out some of the top options, check them out in this post. 
Shopping bots, also popularly known as sneaker bots, are gaining more popularity due to their efficiency in online purchase and convenience for the buyers. Most e-commerce stores today are built using Shopify. 
Best Shopify Bots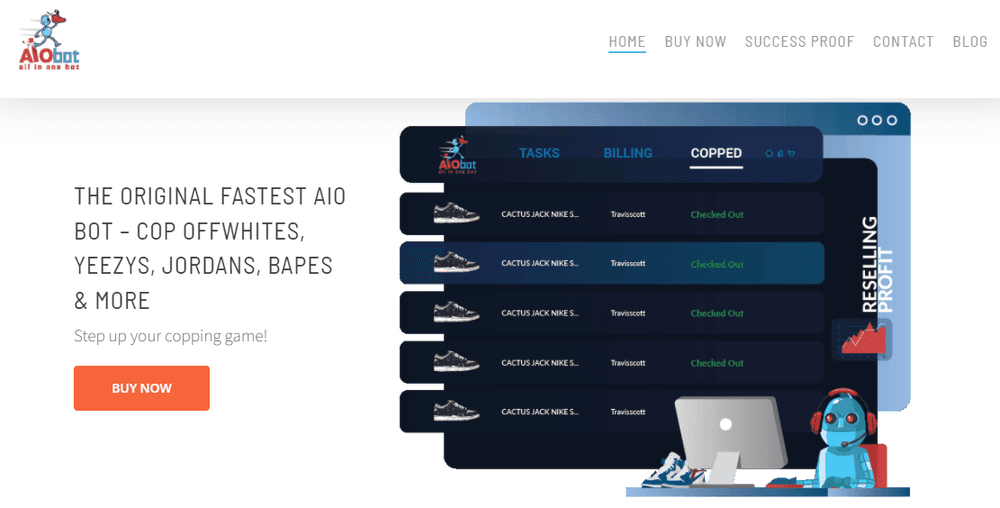 One of the best Shopify bots available is the All in One (AIO). It is well-known for its speed, and despite the fact that there are several All In One bots available now, AIO remains the number 1.
You can use the AIO bot to purchase Jordans, Yeezys, Offwhites, and a lot more from popular Shopify stores. The AIO bot has been featured in Forbes, CNBC, TripleJ, and Highsnobiety, among other online publications. 
Most users prefer this Shopify bot because it's simple to use; you may shop in just four simple steps. Interestingly, the AIO bot has been used to purchase almost 300,000 goods since its launch.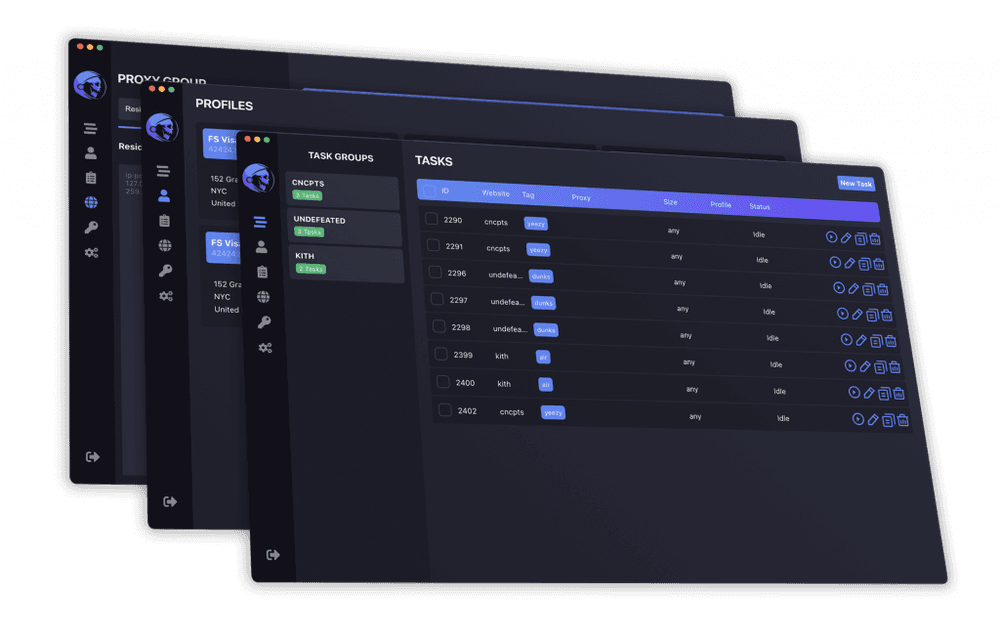 Supercop boasts of a Shopify bot that supports all Shopify stores. The bot is available as a web app and also as an iOS mobile app. With the Supercop Shopify bot, you can run multiple tasks using a single or multiple billing profiles. 
Also, you can schedule when the bot works, assign keywords, and site logins. Notably, the Supercop Bot has a seamless proxy support and you get notifications for every on-site activity.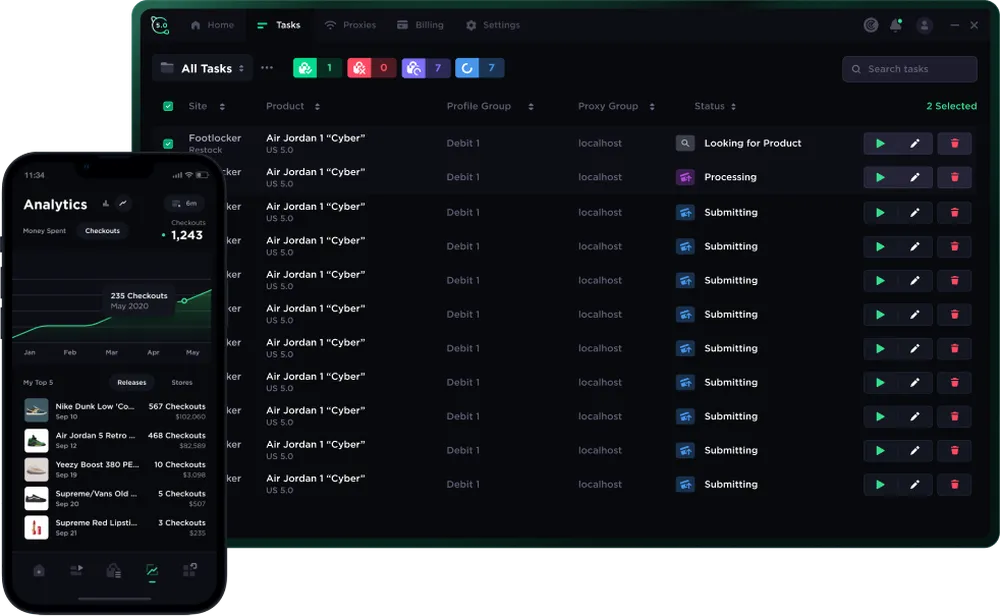 The Cybersole bot supports up to 250 online shopping platforms, among which are Shopify stores. Also, it has recorded over 2 million successful checkouts and $500 million in sales. The shopping bot, which debuted in 2016, offers a one-of-a-kind purchasing experience that includes detailed management for proxies, tasks, and profiles. 
In addition, the bot delivers detailed statistics on your usage and performance. You can use triggers and filters to assign automated actions with the Smart Actions feature. For events, you can create up to 15 different automated actions. In other words, you can shop from 15 different Shopify stores at a time.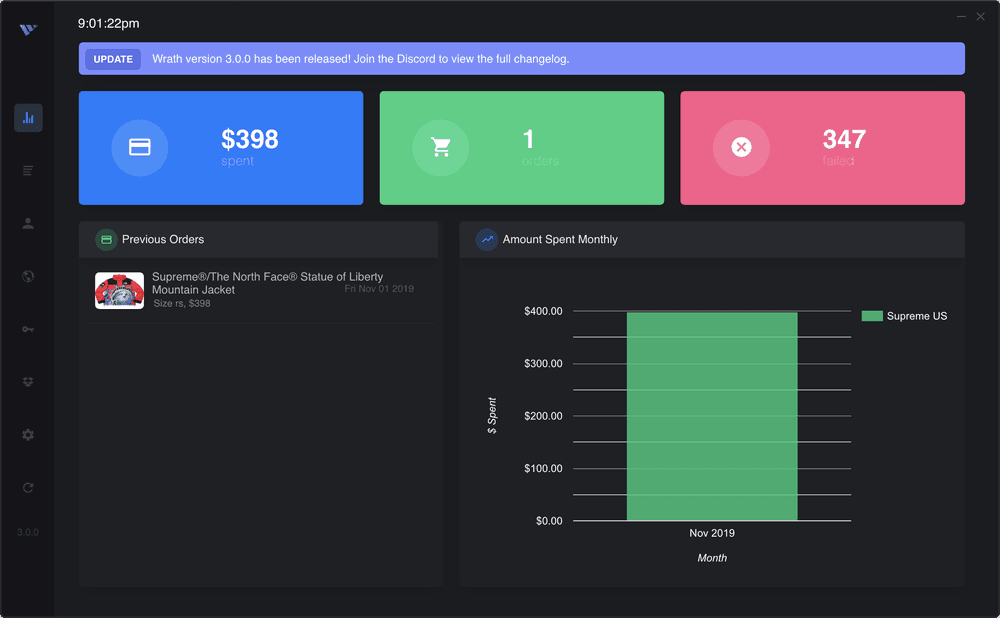 The Wrath Bot is a high-tech Shopify bot with a wide range of capabilities. There are options for AI bot prevention as well as queue bypass, so you can simultaneously run a large number of tasks. You don't have to worry about CAPTCHAs thanks to the built-in Captcha Harvester. 
Not to mention the bot comes with an easy and intuitive user interface. In the Analytics dashboard, you can see how much money you've spent and what you've purchased in the past.
KodaiAIO is an online shopping bot for Shopify and also other eCommerce platforms. Notably, it's compatible with the two major desktop OS we have -  Mac and Windows. With the KodaiAIO bot, you can get your hands on a variety of products. The bot's user interface is both robust and simple, making it a breeze to learn and use. 
In addition, since its launch, KodaiAIO has recorded over 200,000 checkouts. Regular updates ensure that you're always up-to-date on the latest Shopify coping methods. Your dashboard gives you access to data such as account stats and upcoming releases.
Find the perfect Proxy Product.
Proxyrack offers a multiple options to suit most use cases, if you are unsure our 3 Day Trial allows you to test them all.

Residential proxies
Never get blocked, choose your location
View all option available

Datacenter proxies
Super fast and reliable
View all option available
3 Day Trial
Test all products to find the best fit
View all option available
How Shopify Bots Can Help You
If you wanted to shop on a Shopify store, you'll have to browse the product pages, find a product, add to cart, checkout, confirm your order and then pay. While this is normal, you'll agree that it could take time. 
If you wanted to purchase a limited product which a thousand others are also trying to purchase, you could miss out. 
Also, if you're a retailer who wants to purchase multiple - say about 20 products - purchasing them one after the other. All these are inconveniences. With Shopify bots, convenience isn't the only luxury you enjoy, there's also efficiency.
A Shopify bot will purchase products from Shopify stores in record time. They're efficient as they'll cop only what you assign them to and the convenience is that they're automatic. You can save the time and stress you would use to shop manually. 
Best Proxies For Shopify Bots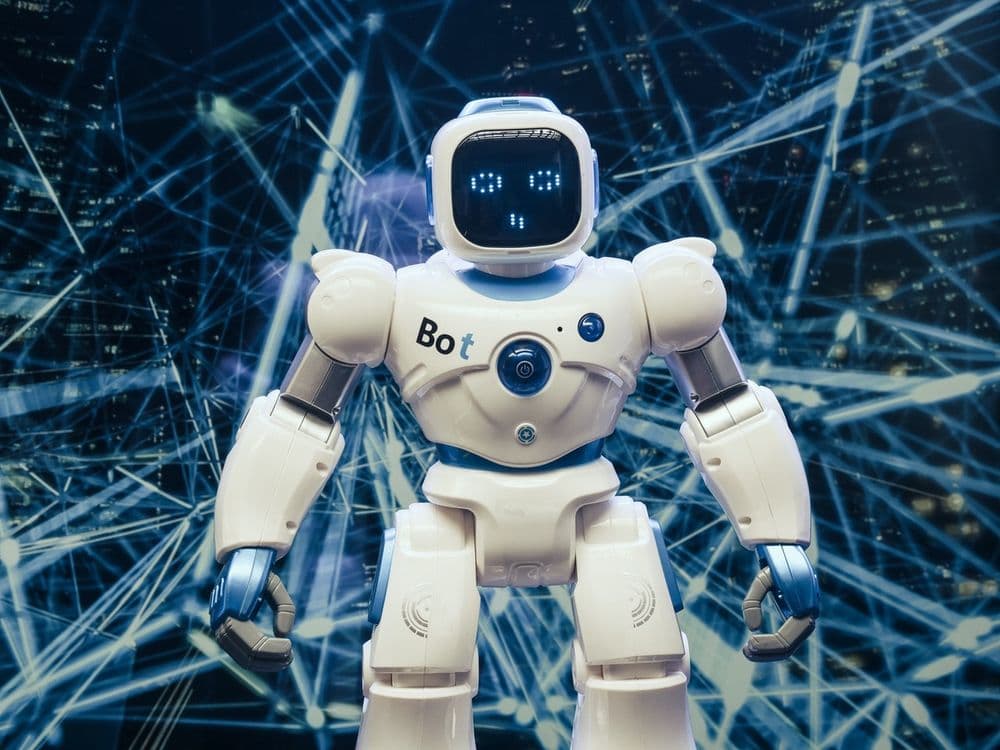 Proxies are essential if you want to get the most out of your Shopify bots. Shopify stores only want human customers; they do not welcome robots which is what your bot is. Access to the website is denied once the stores detect that you're using a bot. Your IP will likely be restricted. 
However, you can avoid this by using a proxy. Rotating your Shopify bot's IP address will keep it from being blacklisted. Using this method, your bot traffic looks to be traffic from normal internet users. 
For Shopify shopping Bots, ProxyRack is an ideal proxy provider to go for.  With ProxyRack, you get a large number of residential and data center IPs. There are more than 5 million IP addresses from the residential proxies and over 20,000 IP from the data center proxies. 
You can check out the proxy options below: 
Residential Proxies
Unmetered Residential Proxies: Starting from $80

Premium GEO Residential Proxies: Starting from $14.95

Private Residential Proxies: Starting from $99.95
Datacenter Proxies
USA Rotating Datacenter Proxies: Starting at $120

Mixed Rotating Datacenter Proxies: Starting at $120

Shared Datacenter Proxies: Starting at $49

Canada Rotating Proxies: Starting at $65
Bottom Line
In this post, I've listed some of the best Shopify Bots. These bots can help improve your shopping experience in various ways. Notably, they help you buy fast, and buy more in a very short time. To prevent these Shopify bots from getting, you'll need dependable proxies, which you can purchase from ProxyRack.
Related articles
Find the perfect Proxy Product.
Proxyrack offers a multiple options to suit most use cases, if you are unsure our 3 Day Trial allows you to test them all.

Residential proxies
Never get blocked, choose your location
View all option available

Datacenter proxies
Super fast and reliable
View all option available
3 Day Trial
Test all products to find the best fit
View all option available