Proxy servers are essential for protecting privacy and improving security. Socket Secure version 5 (SOCKS5) proxies are one of the most effective kinds of proxies available. They grew popular as a result of their unique features and benefits.
You can use SOCKS5 in your online activities to feel a little more at ease when surfing the web. In this blog, we'll explore the advantages of SOCKS5 proxies.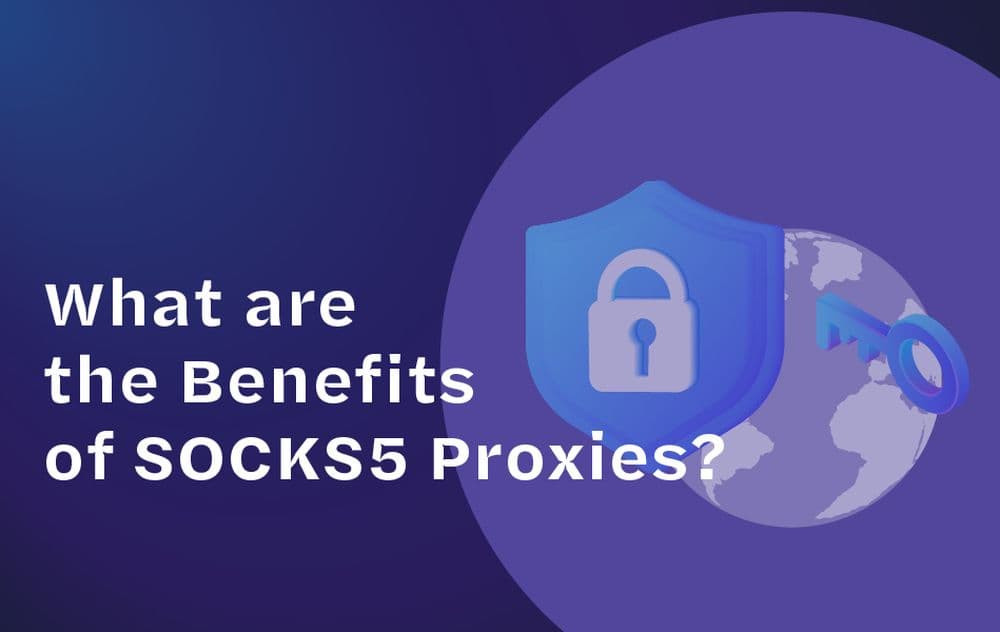 What's a SOCKS5 proxy?
A SOCKS5 proxy is an internet server that acts as a go-between for communication between a client device and other servers. It supports various types of internet traffic and offers benefits like IP address concealment for enhanced anonymity. 
Unlike HTTP proxies, SOCKS5 proxies provide more flexibility and allow users to authenticate for improved security. They can handle different types of traffic and translate network addresses, enabling clients with private IPs to connect to open networks.
There are other proxies available too. Another well-known proxy is a datacenter proxy. IP addresses that come from data centers rather than residential areas are called datacenter proxies. These proxies are not connected to any ISPs or specific places in the real world.
Compared to residential proxies, datacenter proxies are often more cost-effective and provide faster speeds. However, residential static proxy services can provide a higher level of anonymity. These proxies can mimic user behavior.
What do SOCKS5 proxies do?
SOCKS5 proxies run at the transport layer (Layer 4) of the OSI model. They create a secure tunnel between your device and internet-based target servers. They serve as a bridge for network traffic. 
SOCKS5 and HTTP proxies, which primarily handle web traffic, have a few similarities. However, SOCKS5 can manage several forms of internet traffic, including HTTP, FTP, and streaming protocols. HTTP proxies only operate at the application layer (Layer 7). SOCKS5 is perfect for a variety of applications because of its adaptability. 
Through proxy services, detailed proxy usage statistics are often easily accessible. This allows you to track and examine your proxy usage. By using this data, you can enhance performance, find problems, and make knowledgeable proxy configuration choices. Rotating proxies and SOCKS proxies are terms often used interchangeably.
Rotating proxies are a group of proxy servers that automatically switch between different addresses. This maximizes anonymity and boosts connection success rates. A SOCKS5 proxy provides you with a range of safe and private internet browsing choices.
When it comes to other proxies, like static and rotating proxies, they generally require uninterrupted access to specific online resources.
How do SOCKS5 proxies work in practice?
In practice, SOCKS5 functions by creating a client-server connection between your device and the destination server. Here's how SOCKS5 works:
Configuration: Your device needs a manual proxy setup to use the SOCKS5 proxy. This involves entering the proxy server's IP address and port number into your network settings or through an application-specific proxy setup.

Connection: When you want to connect to a specific server, it sends a connection request to the SOCKS5 proxy server. The request includes information such as the IP address of the destination server, the port number, and the preferred protocol.

Authentication: This is optional. If the SOCKS5 proxy needs authentication, you might be required to provide credentials (authentication methods include username and password authentication). This will authenticate you and allow access to the proxy server. This step guarantees that the proxy can only be used by authorized users.

Tunnel: When the SOCKS proxy server receives a connection request, it assesses it and validates authentication. It then creates a tunnel between you and the destination server.

Data Transmission: Once the tunnel is created, your device can send network traffic to the SOCKS5 proxy server (e.g., HTTP requests, FTP transfers). The proxy server forwards your request to the target server and receives a response.

Response: The SOCKS5 proxy relays replies from the destination server to you over the established tunnel.

Termination: Once you have finished communicating with the destination server, it can opt to disconnect from the SOCKS5 proxy. This frees up system resources.
What are the benefits of SOCKS5 proxies?
Privacy and anonymity: A SOCKS5 proxy allows you to conceal your IP address and hide your online identity. This protects privacy, prevents tracking, and allows you to avoid censorship or geo-restrictions.

Security: By serving as a middleman, a SOCKS5 proxy gives an extra degree of security. They rewrite data packet headers. This makes it more difficult for external organizations to track the source of communication. It improves security against possible threats.

Versatility: A SOCKS5 proxy offers a wide range of proxy types, including mobile and residential proxies. Mobile proxies use mobile networks to route traffic. Residential proxies use an IP address linked to household devices.
Because of the variety of proxy types available, you can choose the best option for your needs. These include web scraping, SEO monitoring, or ad verification (to name a few).

Connection Stability: A SOCKS5 proxy provides a steady and reliable connection. This is especially handy for operations that need continuous access to certain web resources.

Quality: While free proxies are available, a SOCKS5 proxy from respected providers gives superior quality, dependability, and support. Free proxies sometimes have restricted bandwidth, slow speeds, and security threats.
How do they compare to SOCKS4?
A SOCKS5 proxy is an improved version of SOCKS4. They have various upgrades and new functionality. In comparison to SOCKS4, SOCKS5 offers increased security through multiple authentication mechanisms. These include username/password authentication and GSSAPI authentication. This ensures greater access control and data security.
SOCKS5 is designed to handle a variety of internet traffic, making it more adaptable to a wide range of applications. SOCKS5 implements a negotiation mechanism during proxy connection. This improves compatibility. It also makes it easier to collect web data. SOCKS5 uses UDP and TCP protocols.
SOCKS5 also has the advantage of supporting IPv6 addresses, which allows for smooth interaction with network infrastructures. SOCKS5 outperforms SOCKS4 in terms of security, functionality, and compatibility.
Why choose Proxyrack for SOCKS5 proxies?
Proxyrack is a large proxy network with a variety of proxies which are available globally. This guarantees that you have a large number of possibilities for finding proxies that match your needs. Proxyrack is well-known for offering high-quality proxies that are reliable, fast, and stable.
Their proxies are reviewed and adjusted on a regular basis to ensure peak performance. Proxyrack provides specialized customer service to help users with any proxy-related difficulties. 
Proxyrack offers a range of subscription plans and price options.
Wrapping Up
SOCKS5 is a highly effective tool that offers multiple benefits for privacy, security, and performance. SOCKS5 has a wide range of applications and use cases. They have the ability to handle many forms of internet traffic. They support authentication methods,  improving security and access control.
SOCKS5 proxies also provide capabilities such as IP rotation, detailed usage statistics, and compatibility with both home and mobile proxies. This expands their practicality and flexibility. SOCKS5 proxies enable you to conceal your IP address, access restricted material, and improve your online experience.
This can be for anonymous surfing, data scraping, or circumventing geo-restrictions. Individuals and companies can benefit from a more secure, private, and optimized internet connection while preserving control over their online activity. Proxyrack is an excellent choice for all of your proxy needs.
FAQs
How are SOCKS5 proxies different from HTTP proxies?
SOCKS5 proxies differ from HTTP proxies in their level of operation. HTTP proxies operate at the application layer (Layer 7) and are mainly meant for handling web traffic. SOCKS5 proxies operate at the transport layer (Layer 4) and handle a variety of internet traffic protocols, including HTTP, FTP, and streaming protocols.
Are SOCKS5 proxies encrypted?
SOCKS5 proxies do not provide encryption by themselves. They operate as intermediaries for clients and target servers. SOCKS5 proxies can be used together with encryption protocols such as SSL/TLS. This will protect the connection between the client and the proxy.
Can SOCKS5 proxies rotate my IP address automatically?
SOCKS5 proxies can support IP rotation. Some proxy providers offer rotating SOCKS5 proxies, which automatically cycle a pool of IP addresses.