So, you want the best proxies for Instazood? This post is meant for you.
Getting more likes, comments, and followers on Instagram translates to a higher engagement rate needed to make your content visible to a larger audience base and also build your Instagram community.
It is possible to build your engagement rate organically, but it will take way more time, energy, and commitment than you can give.
But with Instazood and ProxyRack premium proxies combined, you can build a larger follower base who will interact more with your content and increase your engagement rate on Instagram.
This post focuses on the benefits of using the Instazood Instagram bot with premium proxies.
Find the perfect Proxy Product.
Proxyrack offers a multiple options to suit most use cases, if you are unsure our 3 Day Trial allows you to test them all.

Residential proxies
Never get blocked, choose your location
View all option available

Datacenter proxies
Super fast and reliable
View all option available
3 Day Trial
Test all products to find the best fit
View all option available
What Are The Best Proxies For Instazood?
The best proxies for Instazood are the Residential and Mobile proxies. Both proxies use proxy IP addresses assigned to real devices (home PC or smartphones) to make Instazood indistinguishable from genuine human users.
Not all proxy service providers facilitate reliable proxies for Instagram use because Instagram is programmed to identify proxies on its website, thus requiring the use of unique IP addresses to evade detection.
However, ProxyRack is a premium proxy provider with large pools of unique residential proxies and mobile proxies for seamless Instazood activity. ProxyRack has over 2 million IP addresses gathered from more than 190 countries worldwide, making it the perfect source for Instagram proxies.
Check out our full range of Residential Proxies
Check out our full Range of Mobile Proxies
Since Instagram is a highly restrictive social media platform, you should not use free proxies with Instazood because Instagram has a blacklist of all free proxies and their subnet. Besides, using free proxies exposes you to data theft and other cyber-related misfortunes.
What Is Instazood?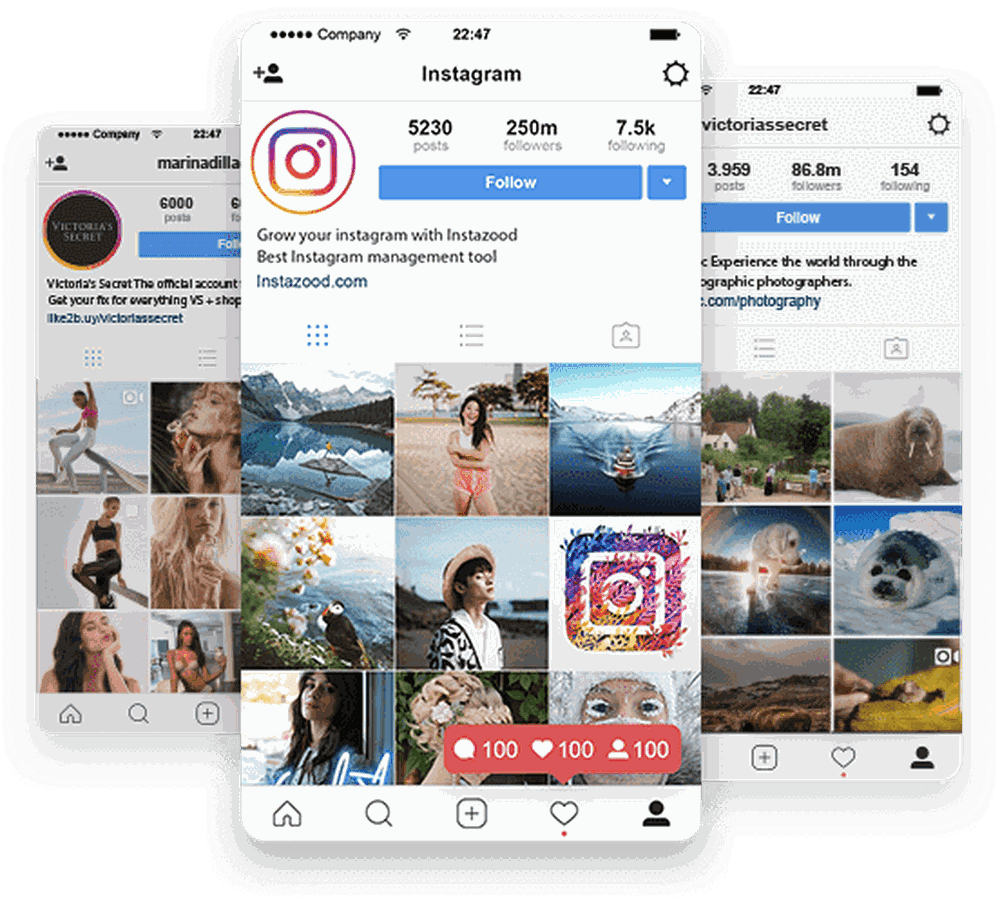 Instazood is an Instagram bot that enables you to effectively increase your engagement rates by automating likes, comments, follows, and unfollows. Plus, it helps you to get more followers, send messages, and even make automated posts.
In addition, Instazood has tons of built-in filters and customization features that let you customize everything ranging from the type of followers you get, automate likes and get more likes, comments, and view stories.
It is also an easy-to-use web app optimized for mobile device use.
Why You Need Proxies For Instazood?
You need premium proxies for Instazood Instagram bot because Instagram has a strict policy against using bots on its platforms, thus banning and blacklisting defaulters' accounts and IP addresses.
Setting up Instazood with premium proxies protects your original IP address from getting blacklisted by acting as an intermediary server through which data exchange takes place between Instazood and the Instagram server.
Thus, a premium proxy server uses its Ip address and location to send and receive data back and forth from an Instagram server while shielding your original IP address and location from access by the Instagram server.
If you intend to use the Instagram platform for marketing, you will need more than five multiple accounts to manage various aspects of marketing. However, Instagram's policy is against having more than five multiple accounts, thus banning linked accounts.
Using proxies prevents Instagram from linking multiple accounts to a single user by assigning different proxy IP addresses to all multiple accounts.
With premium proxies, you can access Instagram from restricted countries such as China, Iran, North Korea, etc., and also manage Instagram accounts for your clients from different locations as a social media accounts manager.
Conclusion
The use of an Instagram bot like Instazood and premium proxies remains the best option for building a large follower base by automating and scheduling all Instagram activities such as likes, followership, comments, messaging, posting, etc.
ProxyRack is one of the best sources for premium Instagram proxies compatible with Instazood. To get the best Proxies for Instazood, reach out to ProxyRack via dedicated helplines, email, or LiveChat feature on our website.
Find the perfect Proxy Product.
Proxyrack offers a multiple options to suit most use cases, if you are unsure our 3 Day Trial allows you to test them all.

Residential proxies
Never get blocked, choose your location
View all option available

Datacenter proxies
Super fast and reliable
View all option available
3 Day Trial
Test all products to find the best fit
View all option available
Related articles